Technology Impacts Design...
Technological innovations fuelled a revolution in construction practices during the 19th and 20th centuries that simplified construction and eliminated historical building limitations. Machine-made nails and standard dimensional lumber facilitated the transition from timber to balloon to platform framing while hollow-core concrete blocks made constructing foundations both easier and more economical. The advent of structural steel provided multiple advantages since stone, brick, or timber beams were no longer necessary to the structural integrity of a house. Individual houses could be built faster and cheaper, and, by using workers trained to build a small number of architectural designs, the canny builder could effectively mass-produce housing tailored to a particular sector of the market. This gave rise to the tract sub-division development model throughout North America. While many late 19th and early 20th century styles took advantage of new building technologies to produce more complex forms, the real Rubicon for architects took place after World War II. The choice: to produce designs compatible with the sub-division/property development model, or to push the boundaries to create a new vision of residential design. While some would argue that the former is an inferior design expression, if architecture truly reflects the prevailing socio-economic-political conditions in society at-large, then designs which have sold in the hundreds of thousands (or millions) cannot be termed 'inferior'. Good design, whether simple or complex, conservative or a radically new vision, must combine aesthetic appeal, sound engineering, and most importantly, "liveability" to establish a successful Design Style. Anything less might be good art, but not great architecture.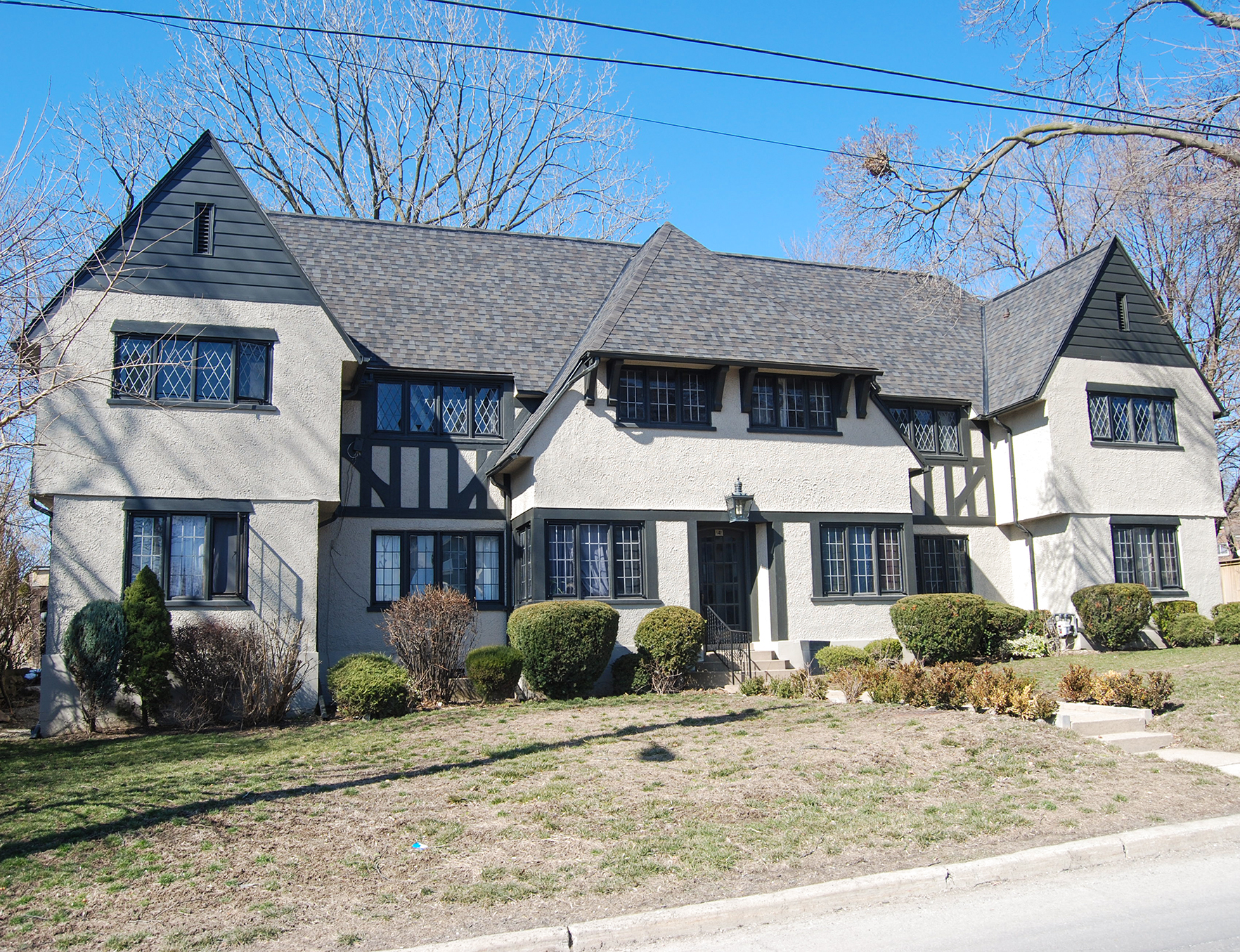 Eclectic Revival
After what people on both sides of the Atlantic saw as the design excesses of the late Victorian period, society's taste shifted to more conservative expressions. While one school of architecture sought to evolve new approaches, the Eclectic movement focussed their efforts on re-interpreting historical designs. Starting with Neo-Georgian (English) & Colonial Revival (US), Neo-classical, Tudor, French Eclectic, Italian Renaissance, Spanish Revival & others followed. This example exhibits several common hallmark elements of the Eclectic Tudor Revival: steep pitched roof; decorative half-timbering; casement windows grouped in series of 3 or more, with small rectangular and/or diamond shaped panes. The symmetrical paired gables on each end of the facade are accentuated by the weight of the clipped roof centre gable, its recessed door and the upper window visor supported by beefy brackets completing the statement.

Edwardian Classicism
Born from the same rejection of the tastes of Victorian high society as the Eclectic movement, Edwardian Classicism might be suggested to reflect the uniquely Canadian philosophy of melding the best options from all sources. This style, combining many then-current English design cues with some Beaux-Arts influences from the US, is a simpler version of the "classical" house. Often based on a symmetrical form (although many asymmetric, narrow lot modified examples were built), a wide-eaved hipped roof, centred dormer(s), tall chimneys, and commodious porch were common elements. Our example uses the American Foursquare footprint to display many of the standard features of the style: a hipped roof with centred dormers, pedimented porch and asymmetrical wrap-around verandah supported by Tuscan columns, wide eaves displaying modillions, and bay windows. Hexagonal panes installed in the upper portion of the windows were fairly common circa 1910.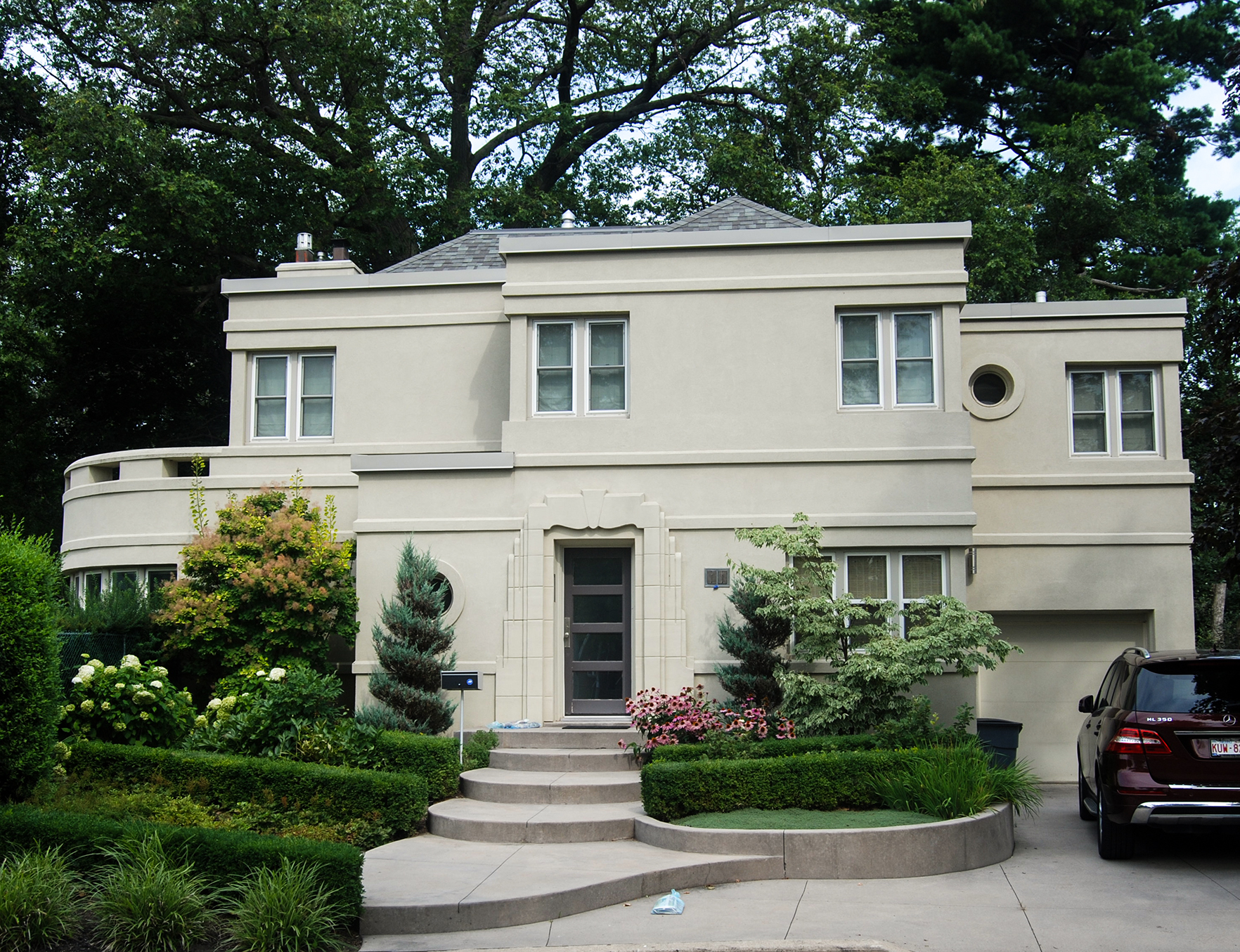 Art Moderne
The Modernistic style, originating in France, comprised of two expressions: Art Deco and Art Moderne. Insofar as we know, there are no Art Deco houses in Ontario, though several apartment buildings exist in this form. However, Art Moderne homes were built (typically after 1930), and the occasional rare treasure still exists in its original form. The expression speaks to the 'streamlined' industrial design that was in-vogue during this period. Smooth surfaces, curved corners, strategically placed round 'porthole' windows & a horizontal emphasis typify the form. Although our example was built with banked double-hung windows following the curve as can be seen in the ca 1942 photo below, this would often have been a glass block construct. The entry door surround is a clear nod to its Art Deco 'sister' form with its geometric & stylized motifs.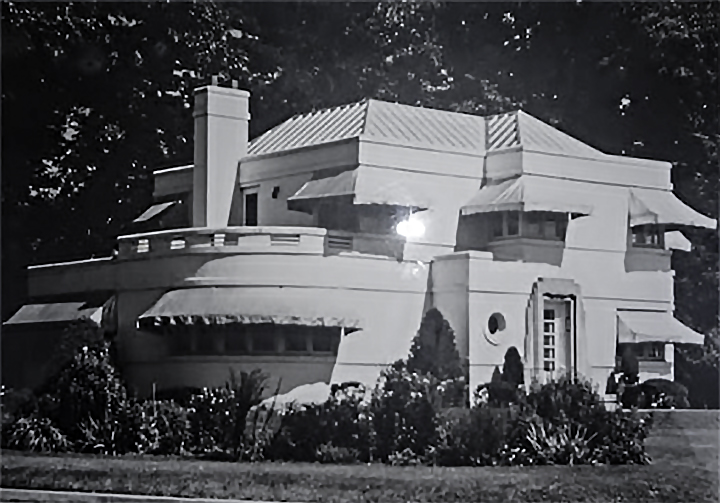 More Moderne > > >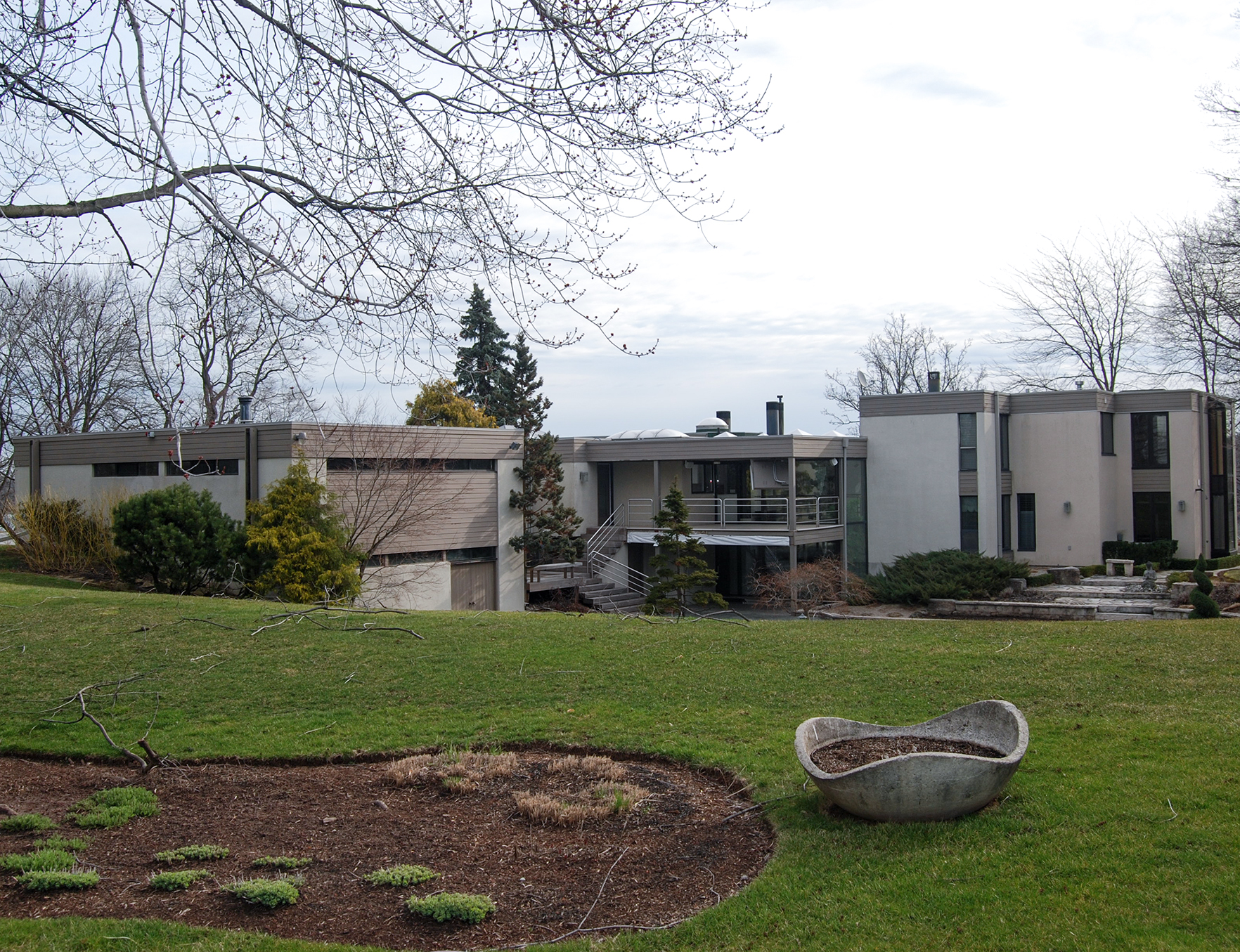 International
Europe in the 1920's initiated a design movement based on new technologies (e.g. structural steel) that provided unheard-of flexibility. The objective was a "building-organism" which, stripped of all superfluous decoration, displayed elements that would resonate with people around the world; an 'international' appeal. This style emphasized interior design that enhanced 'livability'. On early examples and those built in the last two decades, the exterior was usually unrelieved white stucco. Typically, ribbon windows were installed and placed flush with the wall in locations based on interior design rather than exterior composition. Linear wood accents, normally in colours sympathetic to the stucco, occurred on many homes of this style designed between 1960 & 1980. This house, on the Niagara River, has unique facades: the courtyard where horizontal and vertical are juxtaposed against gardens; the river overlook;  and the front, its low-set, horizontal emphasis (see image below) prevailing despite the later (probable) addition of an incongruous glassed-in entry vestibule.

More International > > >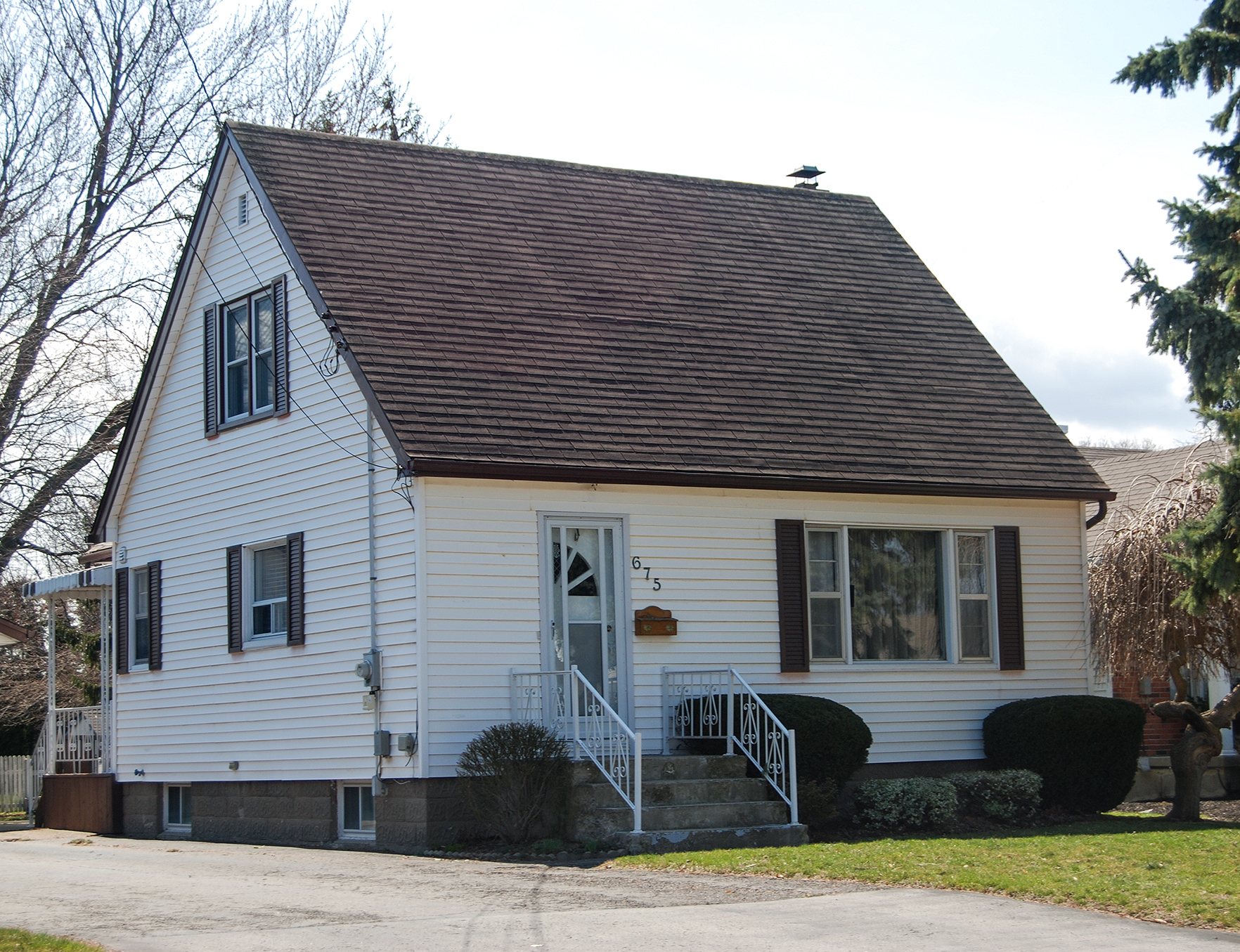 Minimal Traditional
The Great Depression of the 1930's decimated the housing industry in Canada & the USA. American Federal Housing Administration spurred desperate architects to focus on designing affordable houses. As Canada entered World War II, affordable housing was needed near the factories that supplied the war effort. The response was the Victory House. While the Canadian government built ~26,000 of them during the war, better variants of this style continued to be popular with the returning veterans until the mid-1950's. By today's standards it was small, simple and unadorned. To illustrate, the 3 section front window in our example would have been an upgrade! The average 800 square foot house's main floor held a bathroom, living room, bedroom & kitchen with 2 bedrooms stacked in the 1/2 storey above.
More Minimal > > >

Ranch
Historically, one storey 'rambling' houses were not unknown (e.g. Claus House ca. 1817 – Niagara-on-the-Lake), however, it was Post-WWII that the "Ranch" coalesced into a style. Marketed as a casual family-oriented lifestyle home, it was described as "middle-of-the-road modern"; a design with a traditional exterior, and a modern interior. 'Long, Low and Understated' captures the Ranch, which typically required wide lot frontage. Its entry is often located off-centre under a roof overhang or porch. The low-pitched roof has mid to wide eaves. A large picture window is the norm, as is a garage attached on the main facade (its door may face front, rear or side). The interior layout divides private (bedrooms) from public (living) space and has a direct impact on facade window placement/size. A rear patio door was 'de rigueur' to facilitate outdoor entertaining.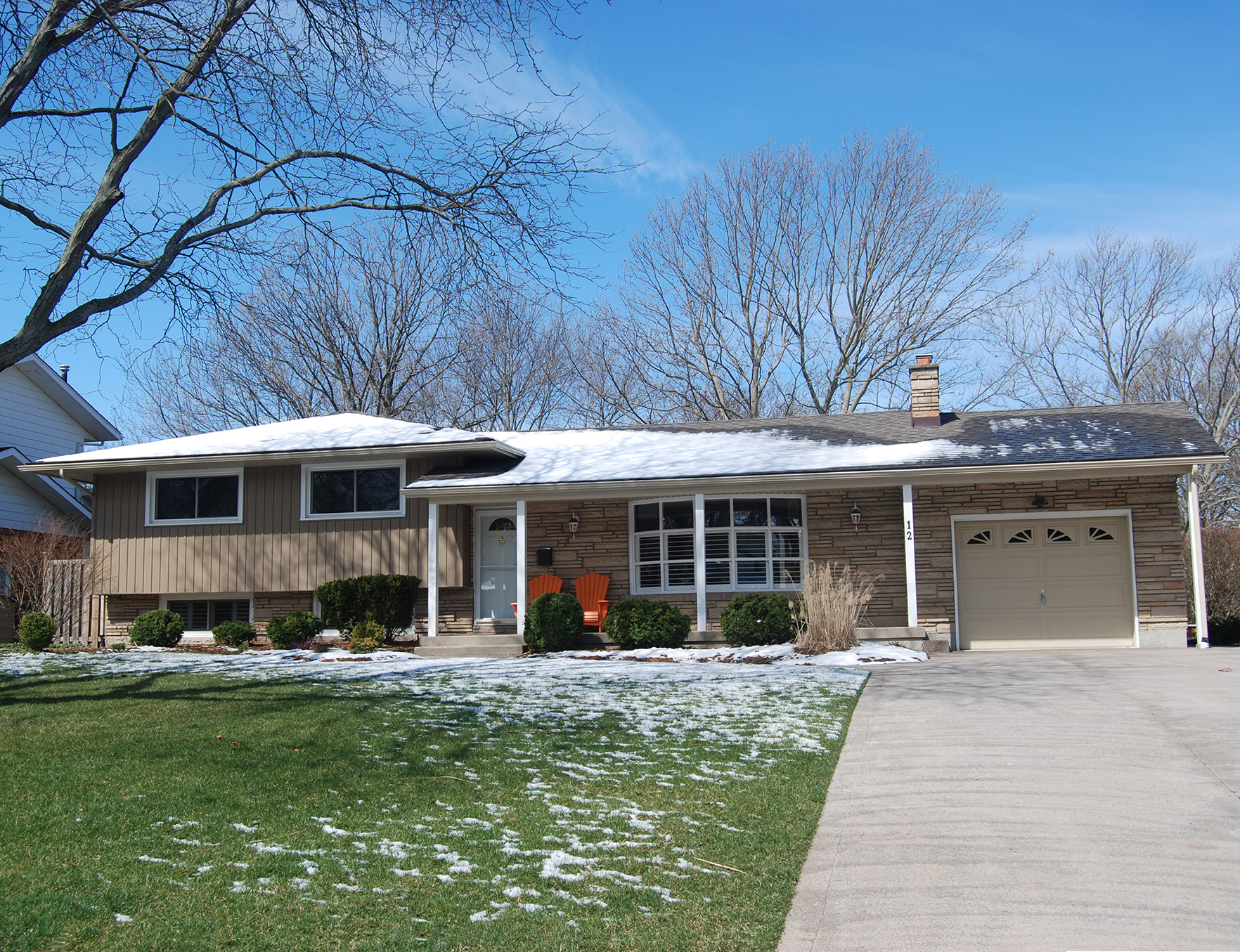 Split Level
Although the split-level form has been incorporated in various Styles (including Contemporary, Organic & 21st Century Modern), it is most commonly classified as a Ranch variant. That said, despite it being a building form as opposed to a Style, we felt that the success and multiple interpretations of the Split design deserved separate recognition. 'Side-' or 'back-split' in bi-level, tri-level, 4 and even 5 level forms, these designs offered the same square footage & functionality as the Ranch, compatible with a smaller lot. In addition, the 'Split' cost less to build (per square foot) and could be adapted to various topographies. The tri-level side-split is one of the most common forms, offering 3 functionally different levels that are staggered and separated by partial flights of stairs. Typically, an entry (main) level offered a 'public' space which could include living room, dining room and kitchen, while an upper level set to the side contained bedrooms & an associated lower level (usually ½ to ⅔'s below grade) was generally devoted to a family room. The facade is typical Ranch with the main level entry located off-centre under a deep roof overhang with a large picture (or bow) window set to one side. On the 'split' end, the upper and lower level windows are ranked beneath a roofline which rises above that of the main level. Finally, consistent with its Ranch cousins, an attached garage is sheltered under a continuation of the main level roof to consolidate the 3 level presentation.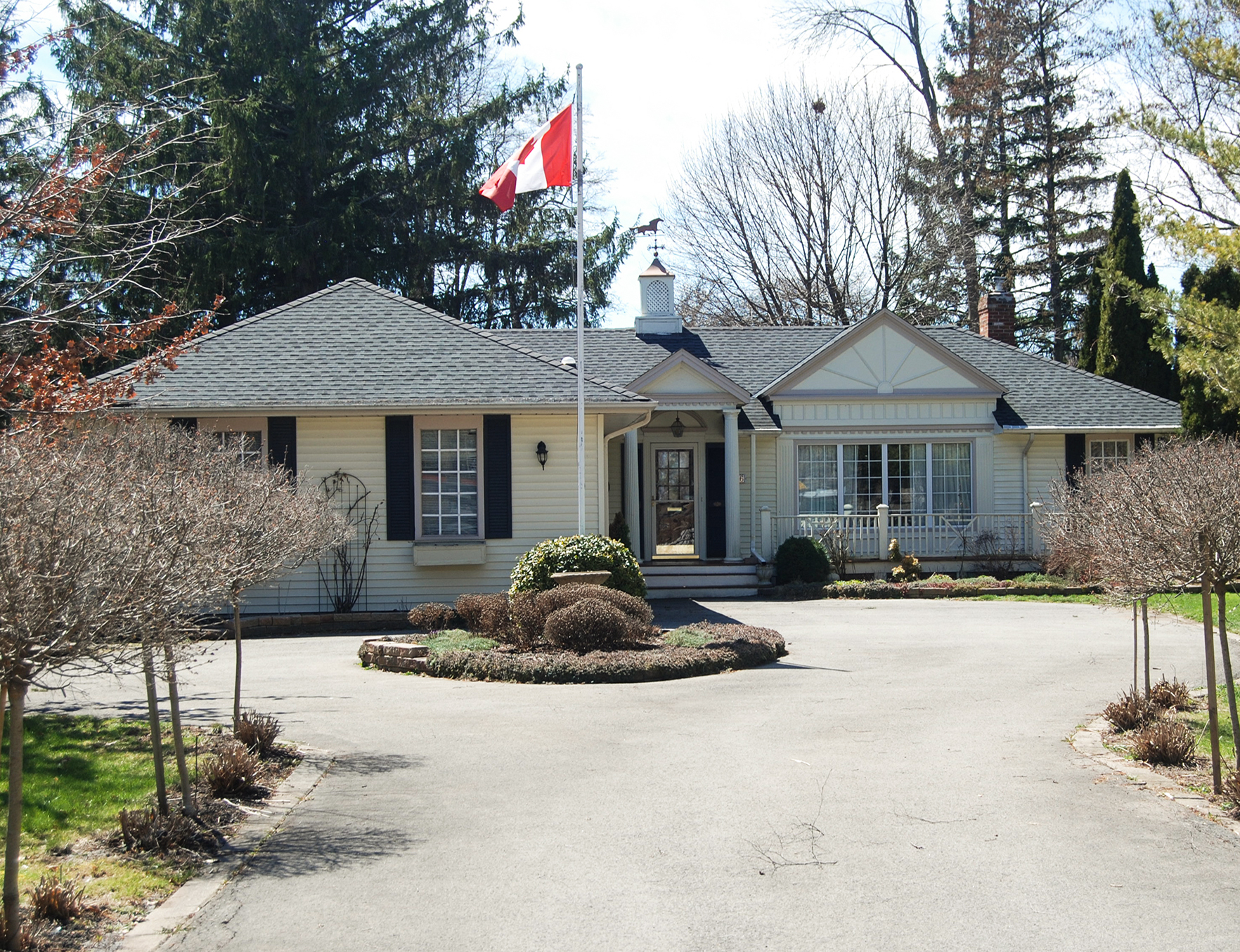 Styled Ranch
Although the Styled Ranch design was first seen around 1935, it remained fairly uncommon until the late 1960's. While the interior design and flow of the Ranch style remained very attractive, the buying public was underwhelmed by its lack of 'curb appeal'. Architects responded with designs of Ranch functionality combined with facade/gable/roof elements evocative of earlier traditional styles: Spanish, French, Tudor, Colonial Revival & Neoclassical. This example shows a Styled Ranch with all the 'bells and whistles' on a narrow (for a Ranch) town lot. The cross-hipped roof is broken by a Neo-Classical front gable, its pilasters embracing the picture window. The pedimented portico supported by fluted columns echoes the gable. The garage is housed in the front extension (see image below). The cupola on the roof ridge is likely a later owner-added addition.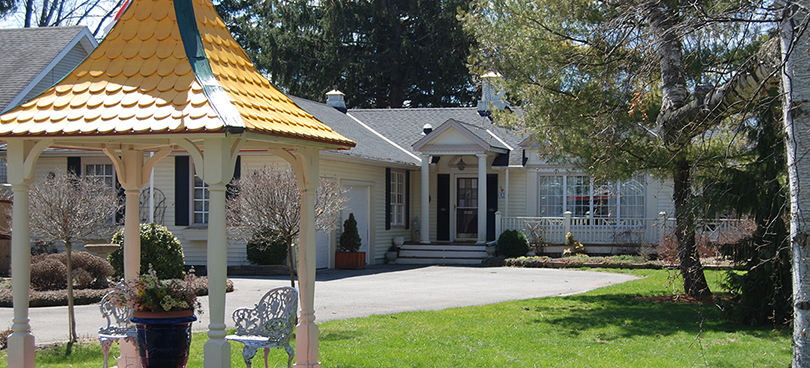 More Styled Ranch > > >

Explore Houses & Styles...
If you'd like to continue your exploration chronologically, select:
Alternatively, you may make a specific selection from the Menu; or, click on a decade in the Timeline to visit a style popular in that period; or, choose another of our Main Sections from the following...