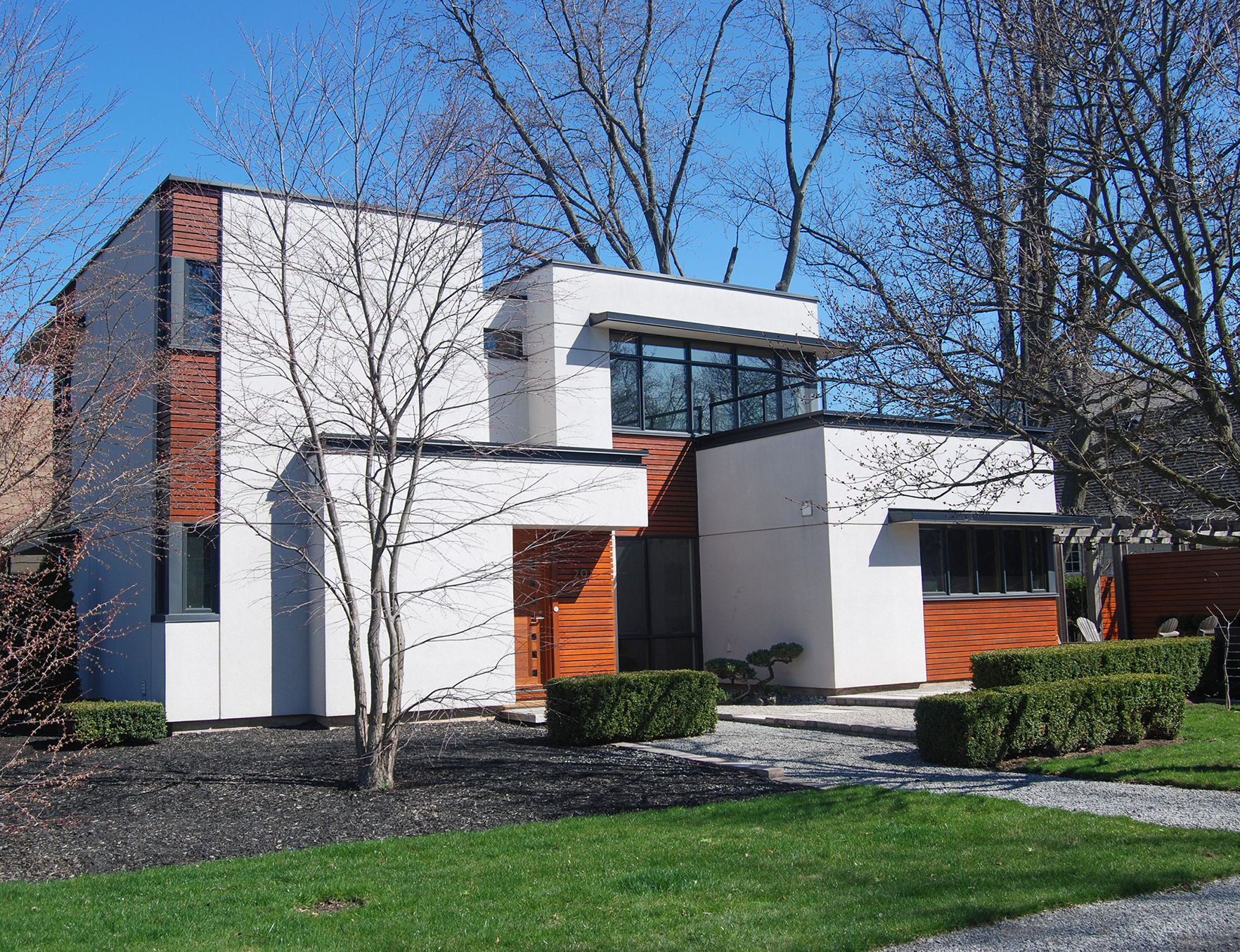 Integrated Composition
With its cantilevered portico, flush-set metal framed windows topped by clean, relatively thin visors and broad white stucco expanses, this example clearly shows the International Style's influence on many architects designing 21st Century Modern homes. Naturally coloured horizontal wood planks break the white stucco planes and introduce an organic element. These boards are installed in a shadow gap method (a ¼" to 1" space left between each board to create shadow lines) which, combined with the horizontal relief lines incised in the stucco in-line with the top of the window frames, produce a subtle yet very effective 3 dimensional patterning across the facade. Privacy screen fencing, echoing the shadow gap cladding, integrate the landscaping and facade to complete the overall composition.
<<< Back to 21st Century Modern Main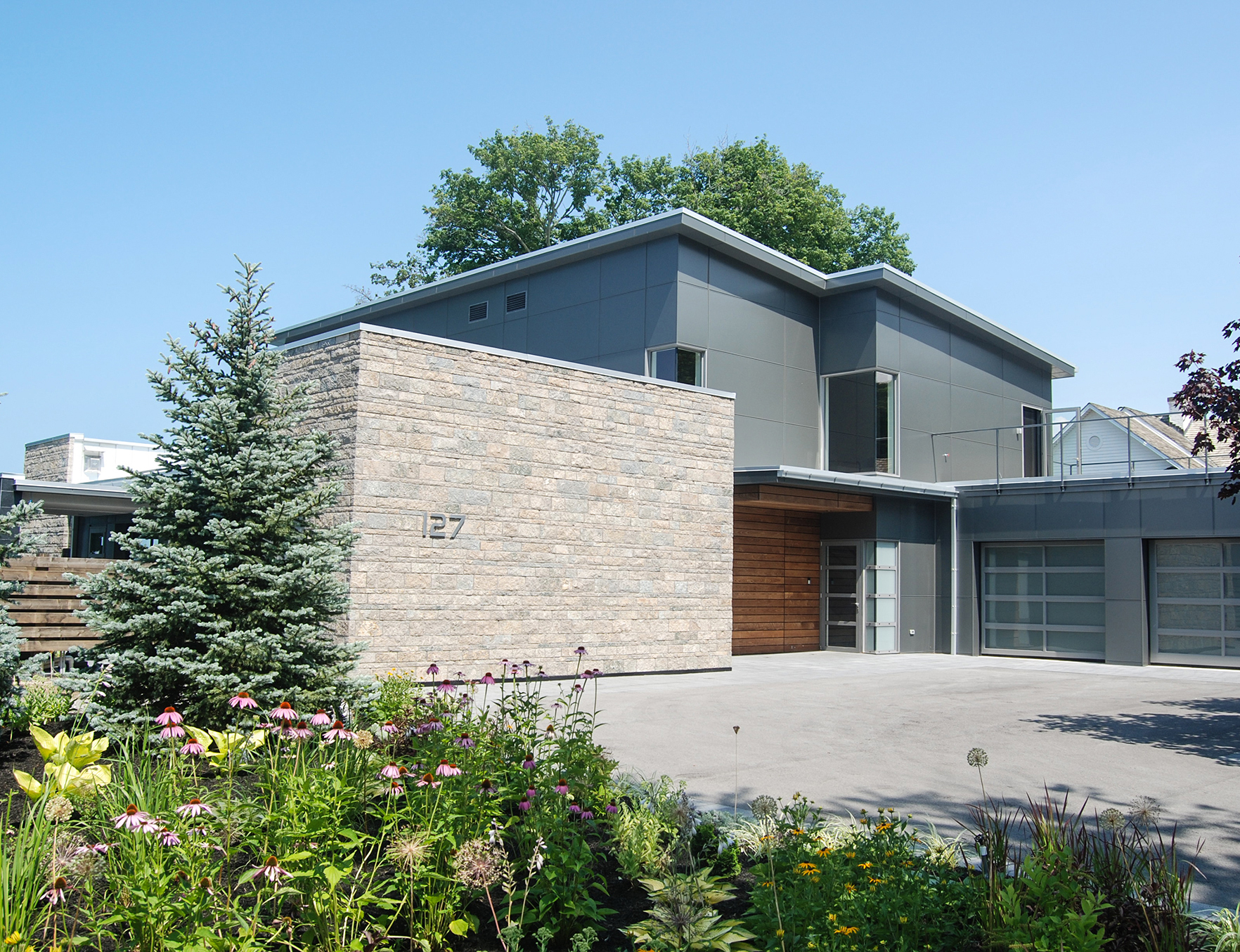 Leaving Stucco Behind
In several respects the design of this 21st Century Modern home takes significant steps to establish a form distinct from the International Style. Of these steps, the most obvious is the use of metal panels to form the primary cladding field together with the complete absence of stucco. Aside from the material difference, metal panels contribute two primary design attributes to the overall composition: 3 dimensional patterning produced by the panel joints and the reflective qualities of a metallic surface resulting in shifting highlights both seasonally and throughout each day. Even with the canted roof and corner windows, the panels might have produced a boring monolithic block, however, the architect has introduced natural cladding materials in the form of limestone and wood planking (limited to defining the main entry) which work to pleasingly break the metal field and integrate the house with the landscape.
<<< Back to 21st Century Modern Main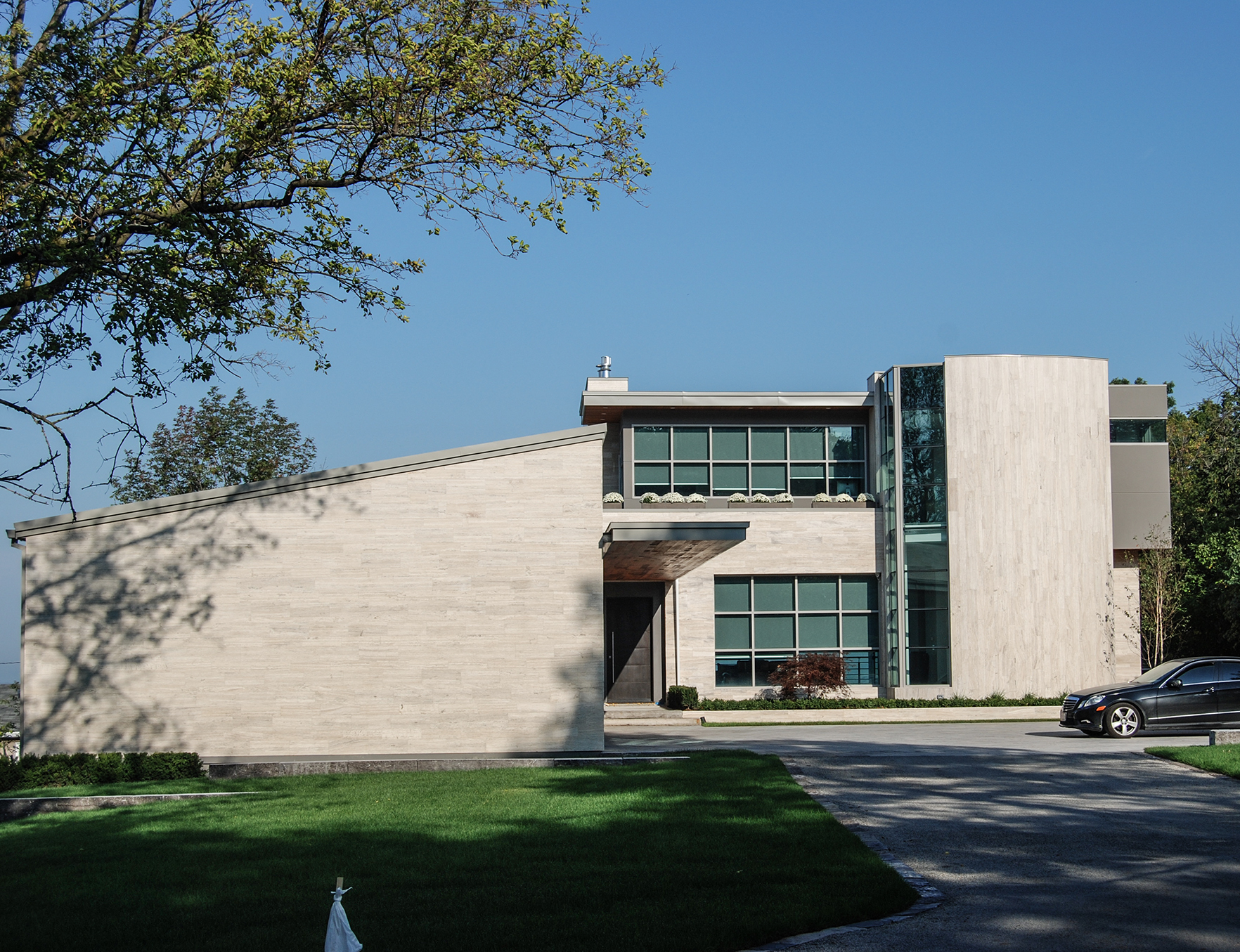 Creating Design Tension
Stone forms the primary cladding of this 21st Century Modern design; laid horizontally across the main field and vertically on the curved projecting portion of right facade. Breaking this large stone field and effectively warming the path to the main entrance, wood has been installed on the underside of the cantilevered overhang spanning the garage and main entry. Despite the canted roof over the garage (left facade) and the curved portion of the right facade, the success of this design rests heavily upon the tension created by juxtaposing the natural stone cladding against the industrial styled metal framed windows and, to a lesser extent, the ribbon windowed metal clad 2nd storey corner. While use of bent glass windows on the curved portion might have smoothly completed its radius, the angle-set windows used by the designer is more consistent with the industrial windows used elsewhere on the facade.
<<< Back to 21st Century Modern Main